This, below, is a GIF of a Molotov cocktail being lit at the beginning of a music video for the Jay-Z/Kanye West track, "No Church in the Wild."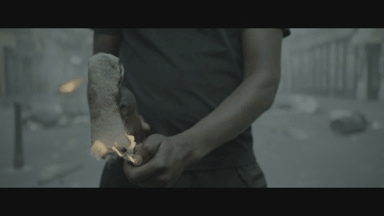 Trump didn't like the fact that Jay-Z and Beyoncé performed at a recent Hillary Clinton rally, calling their music "lewd" and other comments that were more or less veiled racisms. CNN contributor Scottie Nell Hughes, a Trump supporter, spouted the company line as well, citing the above GIF as evidence of Jay-Z's anti-police messaging. What followed was yet another Internet-born gift from this election season, which is nothing if not an Internet idiocracy.
What is a "mazel tov cocktail" pic.twitter.com/xmTiBnoaia

<!­­ /282843435/Tab_300x250_mobile ­­>

— Deadspin (@Deadspin) November 7, 2016
Obviously, this verbal slip-up is part of a nasty Jewish conspiracy that rules the media, the world, your mind, gas prices, that creak in your couch.
here's a jewish secret: the secret elixir in mazel tov cocktails (cel-ray) is what allows us to run the media

— eve peyser (@evepeyser) November 7, 2016
But seriously, this got us—and the Internet—thinking: What's your mazel tov cocktail? There are, of course, plenty of reasons to drink these days, and they all seem to stem from the last year or so of having to deal with this presidential election, specifically Mr. Trump.
Tablet Official Election Night Refresher
3 parts vodka
1 part pickle brine
herring garnish
Tablet's Official Election Night Refresher If You're Feeling Really, Really Adventurous
2 parts schmaltz
1 part puréed helzel
1 part spittle
garnish with orange hair
Lower East Side Sour: Whiskey, lemon juice, simple syrup, optional egg white, Manischewitz float. #MazelTovCocktails

— Rosie Schaap (@rosieschaap) November 7, 2016
Jewish Penicillin: Slivovitz, honey syrup, lemon juice, ginger. #mazeltovcocktails

— Rosie Schaap (@rosieschaap) November 7, 2016
Previous: Passover Cocktails for Each of the Ten Plagues
Name That Jerusalem Cocktail
Related: Refill
Drinking in Jerusalem: A Love Story. No, a Tragedy. No, An Adventure.
<!­­ /282843435/Tab_300x250_mobile ­­>